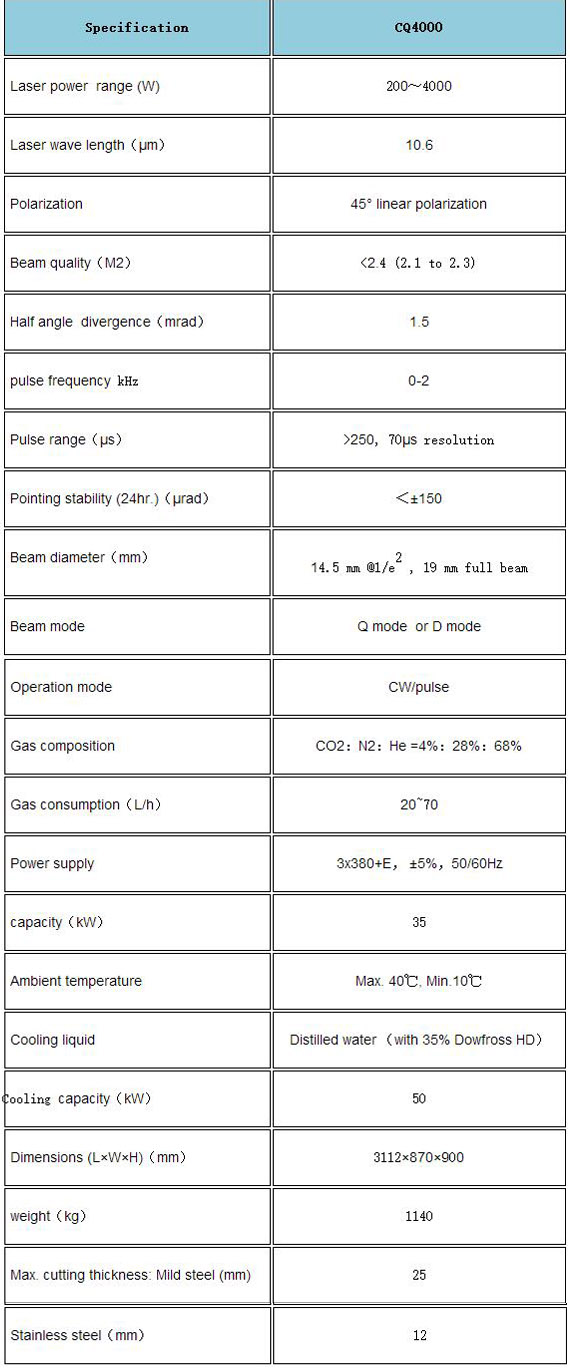 Over 10 years design and R&D for high power CO2 laser, 215 strict step for product manufacturing procedure and quality inspection, experience of 1397 sets of high power laser, the perfect combination of 18246 international brands high quality parts and components, 100,000 hours running for one single laser which is the record for CO2 laser industry, all above forges the first-class quality of Co-walking laser products. The main advantages are:
CQ4000 laser is specially designed for the mixed cutting processing of nonmetal and thin plate metal. The new design concept for axial flow CO2 laser has been adopted:
■Completely new integrated structure design, the smallest volume in the same type of product.
■The output laser beam can be directly led into the processing system, reduce the installation space as much as possible.
■Easy connect interface and integration to avoid unnecessary extra cables and control lines
■Laser communication software, real-time data monitoring , flexible switching between internal and external control, simple and easy to understand user interface, comprehensive function.
■Precision machined aluminum alloy end plate and the very low thermal expansion coefficient water cooling invar, to form a no-deformation light bridge , to eliminate the influence of temperature deformation upon resonator, and to get excellent optical stability, which guarantees the stability of laser power.
■Based on the advanced stress balance mechanical design, the suspension installation technology is adopted to eliminate the influence of the vibration on the resonator , which ensures the excellent beam quality and pointing stability.
■International first-grade brand of oil-free magnetic turbine, completely avoid the influence of oil pollution on the mixing gas, discharge tube, and the cavity mirror, greatly reduce the cost of operation maintenance.
■The innovation design for the discharge structure and anti sputtering electrode, prevent gas from deterioration, ensure the high stability of discharge.
■Equipped with intelligent gas mixing unit, without the need to buy pre-mixed gas, which will be more economical and convenient. According to the actual power, the intelligent gas mixing mode will regulate the gas consumption and reduces the gas consumption of the laser.
■The power consumption of the laser has been reduced because of the high photo-electric efficiency.
■DC excited high voltage laser power supply which is strong anti-interference, high efficiency and stability.
■Fast response and high peak pulse laser output power, which can improve the laser drilling quality and shorten the drilling time.
■Full power and stable operation for 24 hours